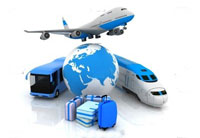 Amadeus
Amadeus is the leading global distribution system (GDS) and technology provider, serving the marketing, sales and distribution needs of the worlds travel and tourism industries. Its comprehensive GDS data processing centre serves some 64,500 travel agency locations and more than 10,000 airline sales offices, which together total around 290,000 points of sale located in over 210 markets worldwide.
Through the Amadeus GDS, travel agencies and airline offices are able to make bookings on more than 95 per cent of the worlds scheduled airline seats and provides access to 56,000 hotels, 50 car rental companies serving some 25,300 locations and other provider groups including ferry, rail, cruise, insurance and tour operators.
Worldspan
Worldspan is a provider of travel technology and a part of the Travelport GDS business. It offers worldwide electronic distribution of travel information, internet products and connectivity, and e-commerce capabilities for travel agencies, travel service providers and corporations.
Its primary system is commonly known as a Global Distribution System (GDS), which is used by travel agents and travel related websites to book airline tickets, hotel rooms, rental cars, tour packages and associated products. Worldspan also hosts IT services and product solutions for major airlines.Worldspan is headquartered in Atlanta, Georgia.
Sabre
Sabre Travel Network, a Sabre Holdings company, provides access to the worlds leading global distribution system (GDS) and products and services enabling agents at more than 56,000 agency locations worldwide to be travel experts. About 40 percent of the worlds travel is booked through the Sabre GDS.
Originally developed in 1960, it was the first system to connect the buyers and sellers of travel. Today the system includes more than 400 airlines, approximately 60,000 hotels, 50 car hire companies, nine cruise lines, 36 railways and 232 tour operators.